The landscape of technology is always shifting. In recent years we've moved from large monolithic applications installed on our servers or desktops to hyper-focused mobile applications that target specific problems for specific industries.
This trend is valuable for problem-solving but creates a new challenge for users accustomed to working on a single product and getting comprehensive information from that system. The innovation and mass adoption of API's (data exchange) has largely solved those challenges. Though, multiple programs working at once can still feel a little foreign.
Loft47 is committed to Real Estate finance. As part of that commitment we choose not to develop an accounting system and instead focus our attention on solving challenges and innovating on Real Estate transactions and finances, creating a complete solution that moves data seamlessly through systems.
There are so many reasons why we stay committed to the vision.
Core accounting in any industry is the same; it's the industries' idiosyncrasies that need specialized software, making the development of redundant functionality a waste of time and effort.
Our accounting partners focus 100% of their time and attention on innovating and automating accounting, allowing us to focus 100% of our time and attention on you.
Integrations and automated workflows are getting better. We talk to our users' accounting platform hundreds of thousands of times a day. Data flow between systems happens in real-time.
Rich data can now easily be blended and analyzed from multiple sources for even more in-depth insights into business performance.
Accounting platforms integrate with hundreds or even thousands of other products, offering an entire marketplace of technology you can use to lean out your operations.
Expecting an industry-focused product to innovate or integrate at the same pace as a dedicated accounting platform is unrealistic. With over 2.43 million businesses running on Xero, their investment in product enhancement was $139.8 Million in just six months. We can't beat that, and we don't suspect any other Real Estate application can either.
It can be daunting to put trust in multiple programs. Many of our clients had expressed concerns and frustrations around using multiple integrations and getting little support. In fact, we've experienced it ourselves. This is why we pride ourselves on the level of sophistication our integrations have and our support of them. Please don't just take it from us; read what our happy clients have to say: https://www.loft47.com/reviews
We've also heard client's concerns around data integrity as connections can break or manual intervention can render the data inconsistent between two systems.  We agree.  While we preach to our users that they should not have to do any manual entries to their accounting platform, it's tough to get accustomed to it. We see users manually making changes that threaten data integrity. We've built checks and balances into the program and offer best practices for quick monthly reviews or reconciliations to ensure you're on the right track.
While there are risks, the benefits of choosing applications that focus on their core competencies are clear. If you're still not convinced, let's dig a little deeper.
No business is entirely unique
Double-entry bookkeeping and later GAAP standards were developed and enforced to standardize how we record and report financial data. This simple system was introduced in 1494 and provided a framework that is still in use today for all businesses, regardless of industry, size, or location.
The way accounts payable/receivable, debits, credits, and financial statements work do not change. What does, is the way you record these entries or interact with your accounting system. The nuances that make your company or industry-unique are the exception to the rule and not the rule itself.
If a standard accounting platform might handle 80% of what you need, you only require specialized software to assist with the remaining 20% of the functionality. By building software to cover 100% of features for each industry that is 80% of development time and cost wasted. Specializing in a specific problem or workflow keeps the costs of developing, evolving and maintaining the platform down so users get access to better, hyper-focused, mission-critical functionality.
The cradle of innovation
Our accounting partners do focus 100% of their time and attention on innovations in the accounting realm. Their job is to attract and retain users like you. Their goal is to make accounting as simple, automated and as painless as possible.
Our attention is focused on the Real Estate commission and Brokerage management. Our goal is to make transaction management as simple, automated and as painless as possible while giving back the data you need to understand your Brokerage and make timely decisions. We can't do that nearly as well if our attention is divided.
APIs aren't just cool tech jargon
API (application programming interface) technology, introduced in 2000 has evolved to become the dominant method of development between programs and as an internal development strategy to optimize performance.
The growth and strength of APIs allow us to connect and communicate with other programs in real-time. We can instantly send and receive information so changes in one system can be reflected almost immediately in another.
For example, when a user in Loft47 removes a payment to an Agent due to an error (hey, we all know it happens) our API will check to see if a payment was released in the accounting system. If we know there is a check or payment issued, we can let the user know there is an issue immediately. If there is no payment then we can remove the transaction from both Loft47 and the accounting product simultaneously.
The power, speed and accuracy of API connections truly allow you to choose the software that works best for you. You no longer need to sacrifice great functionality in exchange for comprehensive solutions.
Data everywhere and all-together
We all know data is powerful yet it hasn't always been easy to get a hold of or to get value from it. Some software providers even use your data as a way to hold you hostage.
Those days are nearly over. With tools that allow you to connect multiple data sources together over the life cycle of the transaction the power of this information can be harnessed by anyone.
As a company we're leaning in on Google Data Studio, where we can connect everything from website analytics, databases, third party applications, financial and accounting data, and more. It is our go-to place to get a holistic view of our operations and performance. We also offer a direct sync from Loft47 so our users can blend data from their favourite apps like dotloop to compile full life cycle reporting on real estate commissions.
We're not the only company to understand the value of data, we use this little tool to pull all of our accounting data out of Xero in the specific formats that we like. We set it to update daily so the data is always up to date.
We've set up a sample dashboard for Brokerages where they can merge Loft47 and Xero data to extract rich, detailed performance and accounting information.
Working with tools such as Google Data Studio highlights the fact that we no longer need our data to live in one system to get value from it.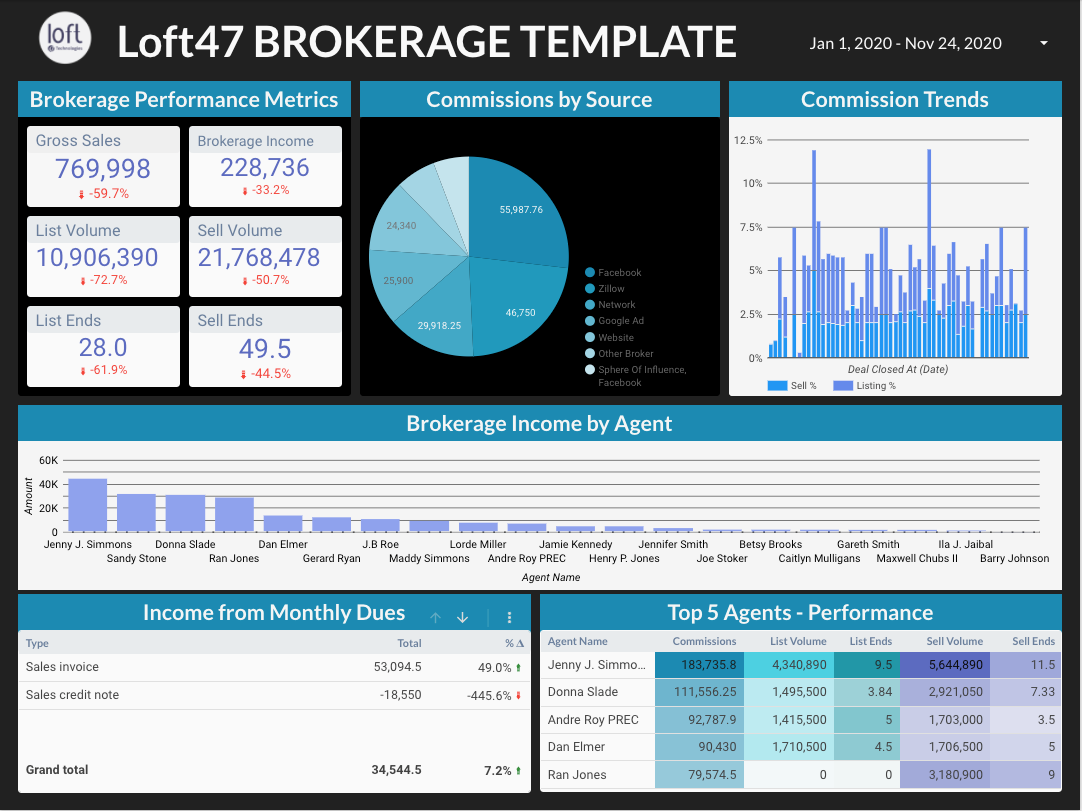 There is no such thing as too much automation 
We all have some unique requirements or pain points in our operations. Real Estate is not alone in that. Loft47 integrates directly with both Xero and QBO and they each have an impressive number of integrations.
Take a quick look at their marketplaces and you'll see the hundreds of apps that are all tackling various business challenges. These addons offer new, innovative solutions and almost all of them offer some form of automation, saving users hours of time.
We believe that removing any manual interference in workflows will return time, money and innovation into your business. If it can be automated, it should be, so you can spend your time and energy on building your business.
May the most innovative win!
Expecting an industry-focused product to innovate or integrate at the same pace as a dedicated accounting platform is unrealistic. Our first integration partner was Xero. As a public company with a large international footprint and a steadfast commitment to innovation it was an easy choice to make. We couldn't resist an accounting platform that made accounting cool again.
Once you're over the learning curve and you understand how Xero can automate routine tasks and use technology like machine learning to make your job easier, you won't want to give it up.
QuickBooks has also been a staple to so many small and mid-sized businesses in North America and they are innovating at an impressive rate. While we don't have access to their investment figures, you can really see the impact in the features continually being added to their online platform.
With over 2.43 million businesses running on Xero, their investment in product development over the six-month period ending September 2020 was $139.8 Million. We can't beat that investment or innovation on the accounting side, and we don't suspect any other Real Estate application can either.
When it comes to finance, whether it be accounting or real estate commissions, it's best to leave the innovation in the hands of the experts. When it comes to Real Estate finance, that's exactly what we are.
We are committed to building features and tools that make recording, tracking, paying and measuring commission painless, leaving the accounting to the accounting experts 🙂